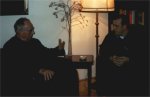 Aktuelles


Ein Besuch in Wien.

Im März hatte ich die Möglichkeit Herrn Dr. Horst Link in Wien zu besuchen.

Durch die sehr interessanten Gespräche mit ihm und seiner Frau Elisabeth Link habe ich neue Erkenntnisse und Kontakte, sowie weitere Details zur Sonor Geschichte bekommen, die es nun gilt aufzuarbeiten.

Leider kann ich dadurch den ursprünglich geplanten Erscheinungstermin nicht einhalten.
Currently


A visit in Vienna.

In march I was fortunate enough to visit Dr. Horst Link in Vienna.

I learned a lot through the interesting discussions with him and his wife Elisabeth Link. I've gained new information and contacts, as well as details pertaining to Sonor's history.

Much work is still to be done; unfortunately I won't be able to honor the planned publishing date.